Details

Parent Category: Aquash/Peltier/Ray
Category: Ray Robinson
Published: 17 July 2007
[Today is January 16th, 2004. The following article was one of two written by Carson Walker.]
 Detroit (AP) - As prosecutors probe the 1975 killing of American Indian Movement member Anna Mae Pictou Aqaush they might unearth details of the unsolved death of a black civil rights activist two years earlier at Wounded Knee.
Ray Robinson left his home in Bogue Chitto, Ala., for South Dakota's Pine Ridge reservation in April 1973 to answer a call from AIM for help but never returned, said his widow, Cheryl Robinson, 59, of Detroit.
That was during a 71-day occupation of Wounded Knee, South Dakota by members and supporters that included the exchange of gunfire with federal agents who surrounded the village.
Robinson, 35, later was declared dead. But his body never was found.
 "Reliable sources let it be known positively that Ray had been shot and killed at Wounded Knee by an Indian man and buried there. We have been told that a participant in Wounded Knee has heard a definite confession from the man who did it," Cheryl Robinson wrote in a February 1975 request for a meeting with AIM.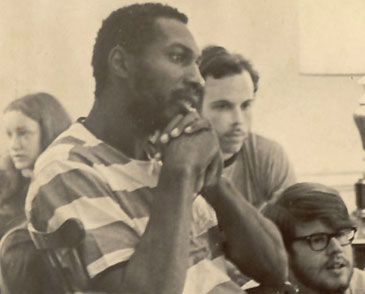 Ray Robinson in Madison, WI - (1960s)
The U.S. government handles cases on reservations. Federal prosecutors and investigators can't discuss pending cases.
But the statute of limitations has run out on crimes other than first-degree murder.
That means prosecutors could only bring charges if they can prove someone plotted to kill Ray Robinson. Lesser degrees of murder and manslaughter can only be prosecuted within five years of the crime, according to federal law.
Ray Robinson's name came up after two men were indicted on charges that they killed Pictou-Aquash in December 1975. Arlo Looking Cloud is scheduled to stand trial starting Feb. 3 in Rgtm apid City. The other man, John Graham, was arrested in December in his native Canada and is fighting extradition.
Based on her recollections and letters she wrote in the years after her husband's disappearance, Cheryl Robinson believes he probably was killed because he naively thought he could turn an unorganized situation into a focused demonstration.
His nonviolent approach probably was not well received at what was a violent situation, she said. And it's possible AIM members suspected he was a federal informant, which he was not, Cheryl Robinson said.
"They thought Ray was trying to be a leader and all he was trying to do is get things organized because of the chaos," she said in an interview at her home.
Cheryl Robinson said she filed a missing person's report with the FBI and in October 1974 traveled to Rapid City and then AIM headquarters in St. Paul, Minn., but learned nothing about what happened to her husband.
Clyde Bellecourt, one of AIM's founders met with her in St. Paul but she said Dennis Banks, another AIM leader present during the Wounded Knee uprising, refused to talk.
Banks has not answered requests for an interview to discuss what he remembers about Ray Robinson.
In a telephone interview, Bellecourt said he doesn't remember meeting with Cheryl Robinson or recall the name Ray Robinson.
"I don't know who you're talking about," he said.
His brother, Vernon Bellecourt, said he only heard the name recently and knows nothing about the disappearance.
"Allegedly this man was on his way into Wounded Knee and disappeared. And of course, as you're well aware, during that time it's been well revealed that the FBI was advising, arming, training mercenaries, Indians and non-Indians alike. And, as you know, several people were killed or run off the road during that period of time. One can only speculate," he said.
Two Indians were confirmed to have died during the 1973 siege, and rumors of other deaths persist. FBI documents that now are public suggest the possibility of people buried at Wounded Knee during the occupation.
-- According to a May 14, 1973, memo, the FBI talked to a man who reported grave sites just outside of Wounded Knee.
-- A memo from May 17, 1973, states an Interior Department official "observed several fresh graves" at Wounded Knee. One of the graves belonged to one of the two Indians killed, the memo states.
There's no mention of Ray Robinson in the FBI correspondence, but two documents reveal the presence of two blacks toward the end of the standoff.
-- On May 5, 1973, a transcript of an interview with a man who claimed to be at Wounded Knee the week prior stated "he heard that one black man and one black woman had recently arrived."
-- A May 21, 1973, FBI memo reported that an Indian woman who left the village on April 20, 1973, counted 200 Indians, 11 whites and two blacks.
Cheryl Robinson said those two were most likely Ray Robinson and a black woman from Alabama who went with him. She returned after the standoff. He didn't.
Paul DeMain, editor of the News From Indian Country newspaper, has researched the Aquash and Robinson cases and believes there are more unsolved deaths from Wounded Knee. Based on interviews, he believes Robinson was killed because AIM thought he was an FBI spy.
"I think there were elements of racism involved in his death. He was an outspoken extrovert, from everything I've read and everyone I've talked to. And within the paranoia of Wounded Knee was birthed this idea that if you had a turncoat, you executed him," DeMain said.
"I don't think Anna Mae Aquash or Ray Robinson were the only ones to meet their fate at the hands of the American Indian Movement after they were labeled informants or turncoats."
AIM's Vernon Bellecourt disputes that.
"I have no idea what he's talking about," he said.
Make a Donation to Support the Truth